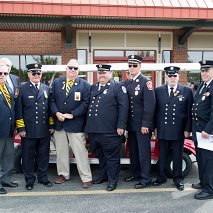 Long Island Day
Long Island Day Pictures on 9/15/13 from Danny Percell of Syosset FD.
---
Port Chester Explorers Earn State Title
Village unit cited for work with firefighters
PORT CHESTER — The next generation of village firefighters hasn't graduated from high school yet, but they are already learning how to save lives as part of a youth program recognized Sunday as best in the state.
Established as a "farm system" to attract future first responders, teenage members of Explorer Post No. 700 provide support to firefighters responding to a variety of emergency-related calls. They also receive lessons in fire suppression, vehicle extrication and even represent the department at public events.
Their commitment to firefighting has earned them the distinction of youth group of the year from the Firemen's Association of the State of New York, which represents the interests of the more than 92,000 volunteer firefighters and emergency medical personnel.
The award is given to a youth organization that exemplifies commitment to its volunteer fire department and community.
"We worked hard to get this," said Charles Nielsen Jr., the group's captain. "I think we're a big help. We raise money for a lot of people and do a lot of community service. The (firefighters) also like us because we make their lives easier."
The group of about 20 was very active during the response, recovery and restoration efforts following Superstorm Sandy, organizing a humanitarian drive for people outside the area hit hardest by the storm.
The youth group has also raised funds for the Salvation Army and Blythedale Children's Hospital.
"To have a group of individuals like this helping us, day in and day out, is incredible," said village Fire Chief Kevin McMinn at a ceremony Sunday recognizing his "junior" firefighters. It was attended by a mix of elected officials, families and members of the fire department.
Village officials said the youth program serves as a pipeline to membership in the fire department, which is largely made up of volunteers.